Firm News
Norman N. Kunitz (1935 – 2012)
IN MEMORIAM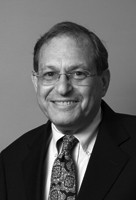 All of us at Fitch, Even, Tabin & Flannery LLP mourn the untimely passing on March 13, 2012, of Norman N. Kunitz, an excellent attorney, respected colleague, and dear friend to all who knew him.
Norman earned his Bachelor of Science degree in Electrical Engineering from Drexel University in 1957 and his Juris Doctor from the George Washington University Law School in 1961. He began his long and successful career in intellectual property law as a patent examiner in the U.S. Patent and Trademark Office in the fields of telemetering, seismic exploration, code storage devices, and systems and code converters. His career progressed to in-house patent counsel positions for a number of corporations including Shell Oil Company, the Fairchild Camera and Instrument, and the Singer Company. Norman moved into private practice in 1969, joining the Washington, D.C., firm of Spencer & Kaye (later known as Spencer & Frank). In 2003, Norman joined Fitch Even's DC office, where he served the firm and his clients with steadfast devotion until his passing.
Norman displayed incisive analysis and focus in effectively representing the firm's clients in the U.S. and abroad in a wide variety of technical fields. Most recently he celebrated back to back victories for his clients in difficult cases on appeal before the U.S. Patent and Trademark Office.
We will always remember Norman for his quest for excellence, zest for life, love of travel, and deep devotion to his family. His lighthearted stories about cases he worked on or places he visited through work or with family were a hallmark of his conversational style and enjoyed by colleagues and clients alike.
Norman met his beloved wife of 42 years, Selma, on a ski trip in 1970. Our deep condolences go out to Selma; their children, Michele and Daniel; and their grandchildren, Masie and Jasper; and to the many members of Norman's extended family.