IP Alert: Sun Sets on the Covered Business Method Review
September 16, 2020
Today, September 16, 2020, is the last day to file a petition for covered business method (CBM) review at the USPTO Patent Trial and Appeal Board (PTAB). The CBM program was enacted as a "transitional" form of review under section 18 of the America Invents Act (AIA). The AIA provided for CBM review during a window of eight years after the USPTO implemented rules under the AIA, which ultimately occurred on September 16, 2012.
CBM proceedings were only available for a certain technological subset of patents, including any patent that claims a method or corresponding apparatus for performing data processing or other operations used in the practice, administration, or management of a financial product or service, but excludes patents for "technological inventions." In addition to restrictions on subject matter, CBM proceedings were only available to parties who had been sued for infringement of the patent. Advantageously, however, CBM proceedings were available for the entire life of a patent, were not subject to any litigation time bar, and were expansive in scope. A CBM petition could assert any ground of unpatentability, including lack of patent-eligible subject matter under section 101, indefiniteness or written description under section 112, and anticipation or obviousness under sections 102 and 103 of the U.S. Patent Act using a much broader range of prior art relative to the popular inter partes review (IPR) proceeding. In contrast, IPR proceedings are only available for one year after the petitioner has been served with a patent infringement complaint and are limited to grounds of invalidity under sections 102 and 103—and only based on patents and printed publications.
The CBM program was intended as an efficient way to weed out low-quality business method patents in the financial services industry. As shown below, the CBM program has been relatively infrequently used, and the number of CBM petition filings has trended consistently downward over the last several years. This may explain why Congress has not taken any steps to extend the CBM program, although several lobbying groups have recently pushed to extend the program.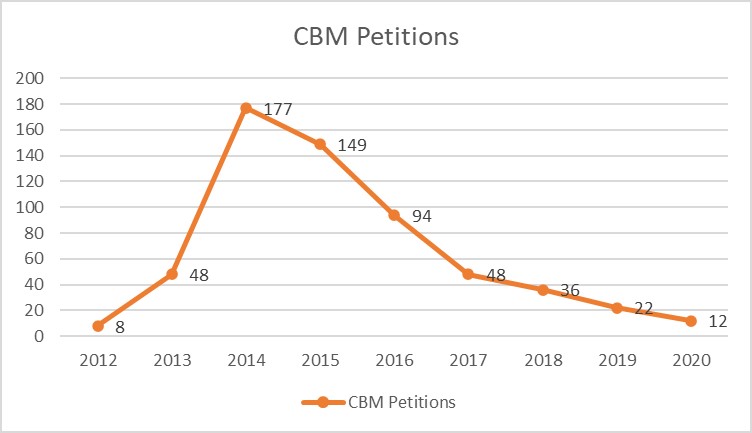 Source
As illustrated above, at its peak popularity in the USPTO's fiscal year 2014 (ending on August 31, 2014), the PTAB received 177 CBM petitions. Filings have declined steadily since then. The PTAB received only 22 CBM petitioners in fiscal year 2019, and only 12 CBM petitions in fiscal year 2020. Even a significant uptick in last-minute filings this year likely would not drive the total number of CBM proceedings above 2019 levels.
Both IPR and post-grant review (PGR) proceedings remain available as avenues to challenge patent validity at the PTAB. IPR remains a popular proceeding, particularly for parties who have been sued for patent infringement. PGR offers the same expansive scope as CBM review, except that PGR is only available during the first nine months after a patent is issued.
For more information on AIA review procedures and cases or on trial practice at the PTAB, please contact any member of Fitch Even's PTAB Trial Practice group.

Fitch Even IP Alert®