Firm News
Steven C. Schroer (1948 – 2016)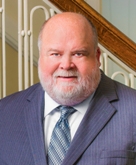 IN MEMORIAM
It is with great sadness that we report the untimely passing on December 10, 2016, of Fitch Even partner Steven C. Schroer, a brilliant trial lawyer, respected colleague, and dear friend. Steve had served as one of Fitch Even's principal trial lawyers since joining the firm in June of 1996.
Steve was a 1974 graduate of the Columbia Uni­versi­ty School of Law, where he was a Harlan Fiske Stone Scholar and an editor of the Columbia Law Re­view. He served as law clerk to the Honor­able Murray I. Gurfein of the U.S. Court of Ap­peals for the Sec­ond Circuit in New York City from 1974 to 1975. Steve went on to earn an LL.M. degree in 1978 from the Uni­ver­sity of Cam­bridge, England.
Steve had extensive experience in intellectual property matters, as well as in environmental, securities, banking, antitrust, and other complex commercial litigation. He began his litigation career at the New York offices of Cravath, Swaine & Moore in 1975, training under famed trial lawyer David Boies, among others. Steve joined the Min­ne­apolis firm Faegre & Benson in 1978, where he served as a business litigation partner from 1983 to 1996. After joining Fitch Even at our Chicago offices in 1996, Steve specialized exclusively in IP law, particularly in the litigation and trial of patent, trademark, and trade secret actions. In 2001, Steve relocated to Colorado and opened Fitch Even's Boulder office.
Over his four-decade career, Steve successfully tried and arbitrated scores of cases, winning dozens of jury trials on behalf of his clients. The many notable corporations he represented include Cargill, Pillsbury, Litton Indus­tries, Honeywell, IBM, Rain Bird, Federal-Mogul, DaimlerChrysler, Chemetall GMBH, Pioneer Laboratories, and Medtronic, among others.
From 1989 to 1995, Steve had a princi­pal role representing the plain­tiffs in the Glacier Bay and Exxon Valdez oil spill litiga­tions in Alaska. For his work in the latter case, Steve received the Trial Law­yers for Pub­lic Jus­tice's "1995 Trial Lawyer of the Year Award" along with the other members of the plaintiffs' Exxon Valdez trial team. The trial team's work in representing the fishermen, landowners, and others adversely affected by the oil spill resulted in what was then the largest punitive damages verdict in U.S. history—$5 billion.
During his 20 years with Fitch Even, Steve became one of the most active first-chair trial attorneys in the intellectual property field, using his unique courtroom skills to secure favorable verdicts in a broad range of IP cases. In one significant defense win, Steve represented a major corporation against infringement claims relating to high-temperature pasteurization of refrigerated liquid egg products, and obtained a jury verdict of non-infringement, avoiding alleged nine-figure damages exposure. Steve was also passionate about protecting the rights of innovative small businesses and inventors, and he earned an impressive record of wins on their behalf in disputes involving some of the world's largest corporations.
Steve mentored many young litigators at Fitch Even, sharing his distinctive communication and advocacy skills while setting an example of professionalism and respect for the legal process. We will remember him for his strong voice, robust nature, warm heart, fierce devotion to his sons, and his affinity for "the little guy." Steve will be sorely missed by all who knew him.